All our AV systems have an HDMI connection. If your laptop does not have an HDMI port, you will need to procure an adapter.  The closet retailer to Campus is the University Book Store. We recommend that you procure a simple video adapter that uses the classroom HDMI cord.
If you are unsure of which adapter you need, please send us an e-mail at AV@FPM.WISC.EDU
If you are an Apple user, please use an official Apple brand adapter.
If you are using a MacBook, please procure an official Apple brand adapter. Non-Apple brand adapters used with Apple devices do not work consistently and often disrupt the signal from your computer. Use of non-Apple adapters can result in the projector outputting a green tinted screen or other video issues.
PC Video Adapters to avoid
If you need to use a video adapter with your PC in our classrooms, you generally have more flexibility than an Apple User. There are two video adapters you should not use. Avoid using a "hub" adapter that resembles the image below: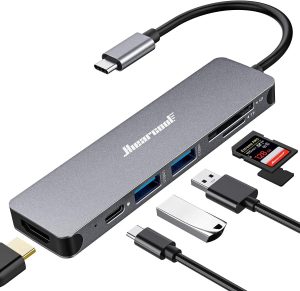 Due to the large number of ports, these kind of adapters do not pass audio and video signals properly in our AV Systems. They are good in an office setting, but are unreliable in a classroom.
Also, do not use a video adapter that plugs into a traditional USB Type-A port, pictured below: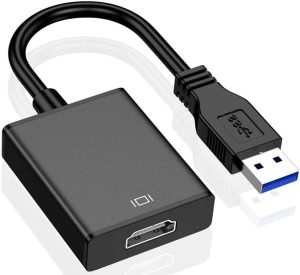 These never work well enough to transport a video signal from your computer to the classroom projector.