Check the cables and connections – make sure the cable you use is connected properly and solidly to your laptop or adapter.
All our classrooms have digital HDMI connections, some rooms have analog VGA connections. It is your responsibility to determine what type of connection your laptop uses and ensure your assigned classroom has the corresponding connection.
| | |
| --- | --- |
| | |
|  This is a ANALOG or VGA connection |  This is a DIGITAL or HDMI connection |
On the Podium Touch Panel, make sure you have selected the correct input button for your connection type.


Troubleshooting Windows Laptops
Make sure you have installed all current OS and firmware updates. Check www.support.microsoft.com for more details.
Specific problems and solutions are listed below
---
PROBLEM
The projector is displaying a blank screen, "Input A – No Signal" or similar message may be displayed.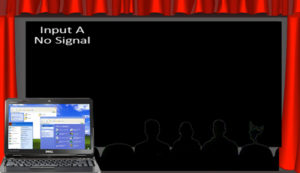 SOLUTION
Unplug the video cable. Wait 5 seconds. Re-plug the video cable.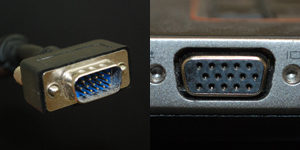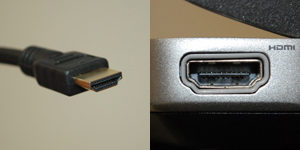 ---
PROBLEM
The projector displays the computer background image, but not the presentation content.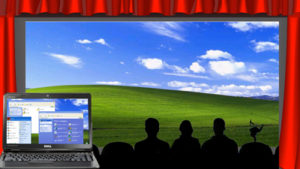 SOLUTION
Press the Windows key + P ("p" for projector)
 + 
This should pop-up a Dual Display menu similar to the one below. Repeating the keystrokes should switch between the different dual display modes. Select "Duplicate" and press Enter.

---
PROBLEM
My presentation content displays OK, but there is no sound.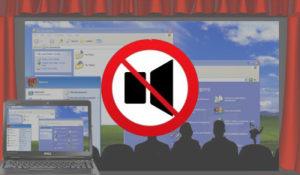 SOLUTION
When using the Analog VGA connection make sure the correct audio cable is fully plugged into the headphone jack of your computer.

When using the Digital HDMI connection audio is carried on the HDMI cable, do not plug in any additional audio cables.

Close the program playing the audio, then re-open it.
Try unplugging the HDMI cable, then plug it back in.

 For ALL connection types increase the volume in 3 places: On the content window (such as a YouTube video), the laptop's master volume, and the Program Volume on the Touch Panel.
    
---
These troubleshooting techniques are also available on the touch panel in the classroom. There will be a button labeled "Laptop Computer Help" in the upper right corner of the laptop pages.
An expanded version of this page, including many more detailed troubleshooting techniques and tips, can be found on this web page.  (Opens in new tab)