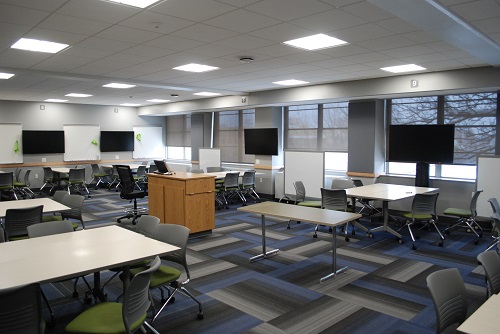 All rooms supported by Classroom Media Support include a podium installed document camera, 1/8″ stereo audio input cable, wired ethernet cable and campus wireless network.
This is a Collaborative Learning Classroom. Before using a CLC please take the CLC tutorial, you will learn how to use all of the unique features these classrooms provide.
Seating Capacity
54
Seating Type
Collaborative tables and Chairs (Moveable)
Writing Surface
Collaborative white boards around room
Laptop Input
VGA and HDMI pull out cables, Sharelink Wireless at podium
Sharelink wireless at each pod
Disc Player
* Region Free BluRay  (will also play DVD, CD)
*Due to the variability in recording formats, please verify compatibility before using Blu-ray discs, DVDs and CDs.